Sabers bank on second chance after tough City Final loss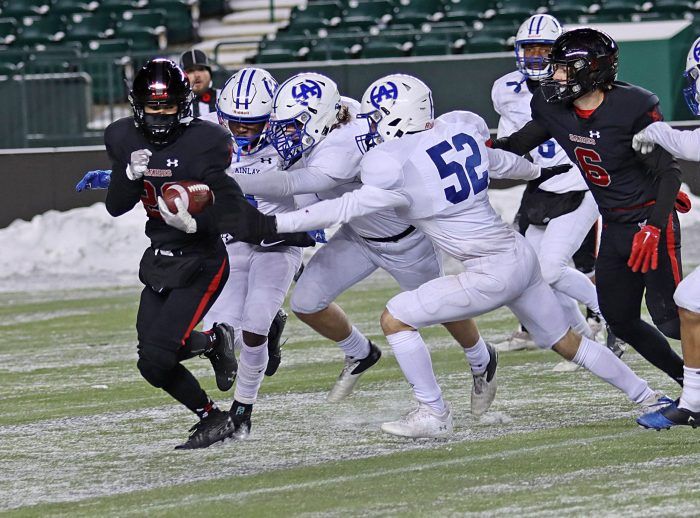 Content of the article
A turnover in a football game can be a game-changing moment.
Content of the article
So, with the Salisbury Sabers ending up handing out more turnover than the grand opening of a bakery was likely to end well.
The Sabers senior football team took on Harry Ainlay's famed Titans, ranked first in the province and second in Canada, in the Carr Conference Division 1 Metro Edmonton League Best City Championship at Commonwealth Stadium on Saturday, entering the competition ranked second in Alberta and fourth in Canada for the size of their school themselves.
It was the fourth straight meeting between the two schools in the City title game, with Harry Ainlay winning the first two before the Sabers finally got it right last fall.
It was no time to spit the ball seven times on turnovers – which proved costly as the Sabers fell 40-14.
Content of the article
"It was one of those days," Sabers head coach Cam Fraser said. "I just think it wasn't our day. We uncharacteristically turned the ball over, which we haven't done all year. Seven turnovers, including two blocked punts in which we just didn't block anyone and let our punter dry out, just wasn't our night.
"Guys were upset, they were devastated. It's a big game in a big hall with a big buildup. Every time you play for a league championship you want to win it, especially the guys who were on the team last year and may have felt that feeling. Kaleb Conn has been amazing for us in the game, both attacking and defending. He left everything on the ground. I was blown away by his effort and passion. He was just exceptional for us.
Content of the article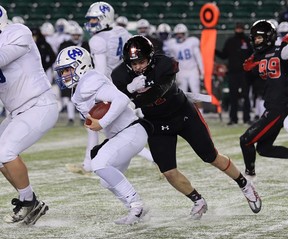 The Sabers got their touchdowns from Joel Whiting and Breyan Elias.
There was some consolation for the Sabers, in that they live to fight again.
"Fortunately, we have a second life with the provincials," Fraser said. "We have to have the mindset that we are starting over. We need to put in healthy guys. Nik Shewchuk didn't play in the match, which hurt. Mason Hertzog didn't play due to a concussion he suffered when we faced Ainlay in the regular season. We had key guys. If we can get them back this week and be a little bit healthier, I think maybe we can still make some noise in the provinces, but we have to be healthy.
Sal need only look to last year's Titans squad for inspiration. After losing to the Sabers in the City Finals, they won the provincial crown.
Content of the article
"We just want to recharge our batteries and use our extra life like Ainlay did last year," Fraser noted. "They were sitting here last year feeling exactly like us right now. When you have an opportunity in life, you have to do your best to take advantage of it. It's been done before."
The Sabers only learned Monday night that they will face Notre Dame Calgary on Saturday at 2:30 p.m. at Emerald Hills Stadium in Sherwood Park.
"They're a great team with a number of Alberta team players on their roster," Fraser said. "They play a physical brand of football and will be a tough opponent this weekend. They are well trained with disciplined athletes. It will be a difficult task on Saturday.
Sticking to Sal, the Sabers junior team also lost to Harry Ainlay, albeit in the Division 1 semi-finals.
Content of the article
Cal Sunquist stood out on the team, which won the league MVP award.
"I've been really impressed with the way Coach Cooper and his staff have developed all of the kids, some of whom are currently playing for the senior team and seamlessly stepping in," Fraser said. "Cale was named the best player among the eight teams involved. He is a strong ball carrier. He's only getting better as he adapts to the high school game. He's a great leader and a big boy. Congratulations to him for a great season and to his teammates for helping him get there.
The Falcons head to Grande Prairie this weekend
Returning to provincial play, the Bev Facey Falcons have been waiting for a while now to return to the field, slipping for a provincial spot despite missing the Metro playoffs with a 2-4 record this season.
Content of the article
They will travel north to face host Grande Prairie on Saturday.
"No one wants to be without a game for a few weeks, but we have been hit by the flu virus which is rampant which has given the children an opportunity to take care of themselves," said the coach- leader of the Falcons, Tanner Stephens. "A big part of the game at this time of year is acclimating to the weather, especially with us going up to Grande Prairie. Looking at this week's forecast, it looks like we are facing some cold weather, so we should at least be prepared to that extent. As for the preparation of the game, we were able to break it down into subsections during the three weeks: reload/refocus, it's now a new season; add new things/make some changes and only focus on what we can do as a team; preparation for our opponent. Being able to break things down like that gave us the chance to keep things fresh. We are excited about this opportunity and as a team we do not take what we consider a reset for granted.
Content of the article
Facey's junior team have been successful this season, winning the Division 2 title after a narrow 6-5 victory over Archbishop O'Leary in the final.
The Ardrossan Bisons, ranked fifth among Tier 4 schools in the province, will face Valleyview this weekend.
"We're getting some players back to full health and looking forward to another productive week of practice," Bisons head coach Mackenzie Enger said when contacted over the weekend. "We mulled Bellerose last Wednesday and I was very proud of all the Bisons for playing well against a Carr Conference team. It showed that we needed to improve our communication on both sides of the ball and it gave the guys a chance to see what November football is all about. Everyone here is looking forward to an exciting week of football.
The Bisons will face the Cougars Friday at 1 p.m. at Emerald Hills in a special Memorial Day contest.
twitter.com/Realshanejones