How to Break into Investment Banking as a Non-Financial Student I wanted to share my latest alumni conversation with Flavia Gaspar, a Durham University student who comes from a non-financial background, trained with Amplify and got an IBD internship at JP Morgan
WELCOME ELON MUSK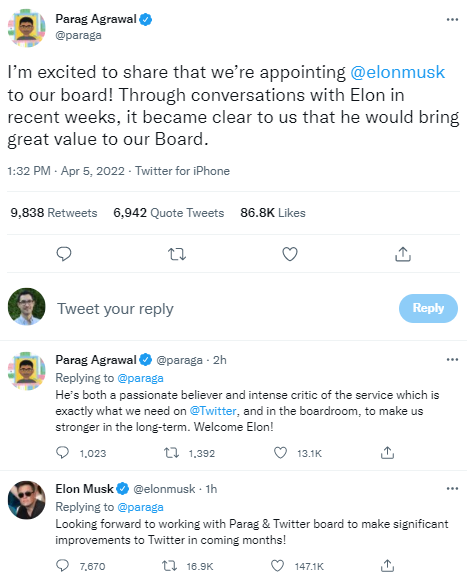 tweet thread
Elon Musk has been named to Twitter's board of directors (NYSE:). It was announced by current CEO Parag Agrawal. This comes just a day after revealing his NOT so passive 9.2% stake in the social media company.
BRAINARD SHOCKS THE MARKETS
Well-known Dove (a central banker who generally prefers lower interest rate policy) and Fed Governor Lael Brainard said she expects methodical interest rate increases and cuts the Fed's balance sheet to move US monetary policy to a "more neutral stance" later this year, with further tightening to follow if needed. The reaction = USD strength, yields up and stocks down. Biggest move of the day.
UK CRYPTO TECHNOLOGY HUB
The government has announced measures that will see stablecoins recognized as a valid form of payment as part of wider plans to make Britain a global hub for technology and investment in crypto assets. This includes working with the Royal Mint on an NFT this summer
JP MORGAN CEO COMMENTS
JP Morgan CEO Jamie Dimon just released the bank's latest report annual letter to shareholders. In the letter, he says the bank expects significantly higher rates and high market volatility. A must read for any student or investor.
Thanks for reading and see you tomorrow!