Global again – students embark on international exchanges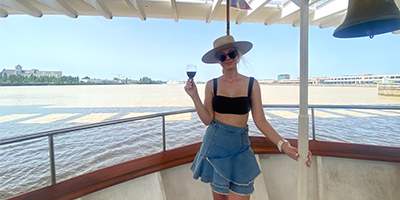 By Marina Barbaro
Emily Farrell, a business student at UniSA, has become the first exchange student to travel abroad to study since Australia's borders reopened.
Emily, who is studying for a Bachelor of Commerce (Management), is the first student to embark on an exchange since the travel component of the program was suspended for almost two years during the COVID pandemic.
As part of her two-week summer program at KEDGE Business School in Bordeaux, South West France, Emily studied Supply Chain Management and Design and had the opportunity to visit a multinational company implementing state-of-the-art techniques.
"The exchange gave me a unique perspective on my studies and an international perspective that I wouldn't have had the chance to experience in Australia, let alone Adelaide," says Emily.
As part of the University's mobility scheme, students are supported to participate in a range of short-term and full-semester exchange opportunities with university partners around the world, including Europe , North and South America and destinations across Asia and the Pacific.
Studying abroad has long been recognized as a valuable opportunity for students to develop their independence and broaden their global perspective while expanding their professional and personal networks.
"The highlight was meeting new people from all over the world, studying and getting together, learning about different cultures and making new friends," says Emily.
The ability to explore the world while earning credit toward a degree is a real bonus for students. In addition to formal studies, Emily's program included the opportunity to explore the region with bike and boat trips along Bordeaux's famous and scenic Garonne.
"There were a lot of activities organized by the university and the social group, so we could see a lot of Bordeaux. Activities included city tours, a boat trip, a visit to Arcachon, games and picnics," says Emily.
Emily's trip to France is the start of a triumphant return for UniSA's mobility program with 20 other students preparing to embark on a range of experiences in Singapore, Fiji, the United States, Canada, Belgium and New Zealand.
Although the physical exchange program has been suspended, the University has maintained its commitment to internationalization through a virtual program, helping students learn and develop global connections.
During the pandemic, more than 200 students participated in virtual international experiences which, despite the reopening of borders, are expected to continue due to the success of the program.
Students will have the chance to be part of the UniSA Global Leadership Forum taking place later this year. The forum will bring together hundreds of students from around the world to hear from visionary global leaders and develop their own leadership skills.
UniSA students interested in studying abroad should visit the UniSA Student Exchange website.