Does sending good morning messages expose your private banking information?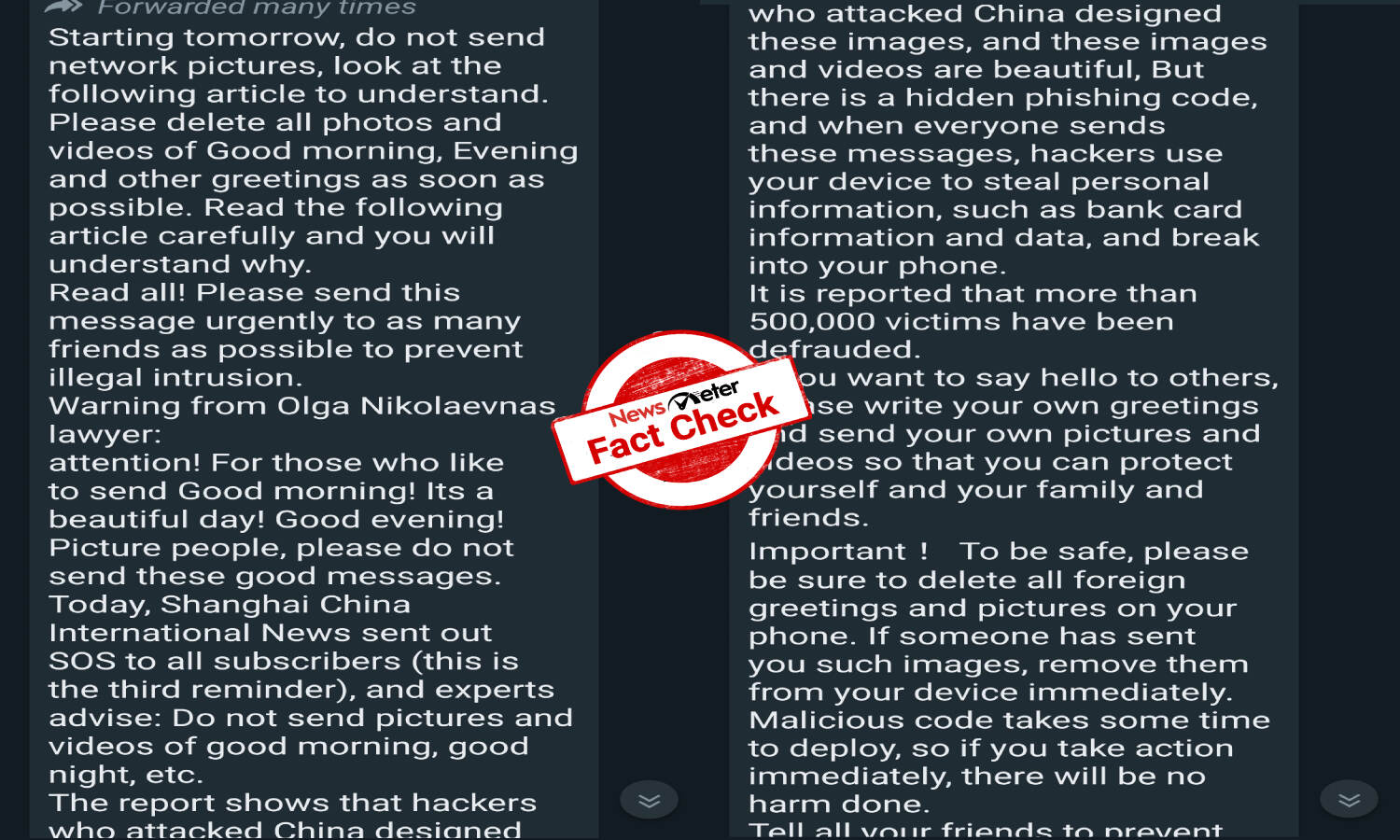 Hyderabad: A message claiming that sending "hello" by WhatsApp can expose a user to phishing is circulating on social networks.
The message reads: "Today, Shanghai China International News sent an SOS to all subscribers (this is the third reminder), and experts advise: do not send good morning photos and videos, good night etc. The report shows that the hackers who attacked China designed these images, and these images and videos are beautiful, but there is a hidden phishing code, and when everyone sends these messages, the hackers use your device to steal personal information, such as credit card information and data, and break into your phone."
It asks users to remove all "strange greetings and images" from their phones. "If someone sent you such images, delete them from your device immediately. Deploying malicious code takes time, so if you act immediately, there will be no harm," he continues. .
Fact check
The allegation is false.
NewsMeter searched and found no website or organization with the name "Shanghai China International News".
The warning also does not include relevant details such as affected websites or mobile apps, or how the attack works from a technical perspective.
Additionally, we also checked official government websites and social media handles, but found no such announcements. We also couldn't find any information about it on the Indian Computer Emergency Response Team website (CERT-Entry).
CERT-In under the Ministry of Information Technology is responsible for protecting Indians from cyber threats.
We also found that a Publish has been in circulation since 2017.
Moreover, after further research, we found out that the process of hiding secret information in a data source is known as Steganography. In this case, malware or phishing URLs can be hidden in text file, images, audio and video.
Malaysia-based news portal The Star had reported much the same prank message two years ago and called it fake.
Therefore, the statement is false.
Examination of the complaint:
Sending good morning messages exposes your private banking information
Claimed by:
Social media users
Complaint reviewed by:
Newsmeter
Source of complaint:
social media
Verification of the facts of the claim:
Fake