Banking on the go: Australia's Big 4 Banking app comparison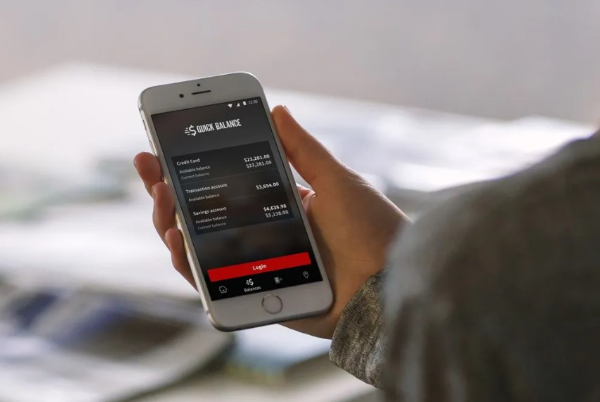 Mobile banking trends are on the rise around the world, with the COVID-19 pandemic and subsequent bank branch closures prompting many older Australians to use mobile banking for the very first time. Naturally, using mobile banking apps has come with a learning curve for many Australian consumers, with all Big 4 banking apps having their own unique layouts, features and functions.
An app comparison conducted by Australian App Development DreamWalk agency seeks to reveal which Big 4 bank offers the most user-friendly mobile banking app. If you're looking to change your own bank, you can explore DreamWalk's expert findings below to help provide additional guidance and insight into your decision-making process.
NAB banking app
With its simplistic, monochromatic color scheme and minimalistic layout, the current NAB mobile banking app is a refreshing change of pace from visually loud competing apps. Recent app updates have refined in-app features such as biometric authentication, push notification customization, and in-app check scanning features. Although app security is generally above board, it could be further improved with the addition of 2FA or MFA.
Quick view features allow app users to view available balances and recent transactions on spending, savings, and clearing accounts. In-app real estate appraisals for customers making home loan repayments through the NAB app are also provided externally and securely by CoreLogic, making managing your capital virtually effortless.
The NAB online banking app can easily connect to any nabtrade account. The configuration can also be configured via the dedicated nabtrade application. NAB has also developed its NAB Connect mobile app specifically to meet the banking needs of businesses. NAB business customers who may regularly need to check exchange rates, make or authorize payments and even access transaction history while on the go can do so easily with the NAB Connect Mobile app.
The interfaces between the NAB and Connect banking apps are virtually the same, making NAB a strong contender for those looking to use the same bank to manage their personal and business finances.

Commonwealth Banking App (CommBank)
With its yellow theme, laid-back tone for app content, and the addition of illustrated graphics, the CommBank app is bursting with character, making it a delight to use and perhaps even fun financial management for many. many long-term Commonwealth Bank customers. The page shows how much you spend on activities like shopping or eating out.
While the incorporation of illustrated graphics into the app's UI complements the app's cheerful yellow theme and may appeal to some app users, the graphics placements are questionable in some cases and can potentially lead to slight performance delays. The CommBank app also uses a "lock and key" loading animation between screens, which likely helps keep app users engaged for slightly longer load times, while providing a sense of security for users when banking online.
Inconsistencies in app layout between recent app updates have also been a concern for CommBank customers. Fortunately, providing app users with home page customization options not featured in any of the other Big 4 banking apps, allowed app users to gather all of their most valuable information directly on the app's opening page and say goodbye to that mustard yellow background. There's no need to get familiar with app navigation changes when all the data you're looking for is right on the homepage.
The introduction of customization options raises a few questions, however. For starters, will the full CommBank app theme be customizable in the near future? And if so, what benefits would this feature have, other than acting as a novelty similar to patterned checkbooks?

ANZ Australia banking app
Compared to the CommBank app, the ANZ Australia banking app presents a streamlined and simple approach to online banking that is likely to appeal to many mature users who are still new to mobile banking. Push notifications for incoming and outgoing payments have only recently been added to the ANZ Australia app, which has significantly improved the overall usability of the app. Additional app features are everything you would expect from a banking app, with easy to navigate menu systems and simple account overview and money reporting features making the ANZ app Australia one of the most usable banking apps in Australia.
ANZ's minimalist design leaves a few glaring holes, though. For example, the account summary page provides minimum information for each account, which means that app users have to go through the overview pages of each account to differentiate between their current balance and available balance, among others like recent transaction history or scheduled payments. This will likely only be an issue for ANZ account holders with multiple spending accounts.
Although ANZ's banking app itself has virtually every feature and function everyday mobile banking customers could ask for, there are a few questions that need to be asked about ANZ's watch when it comes to other modern functions like cash without card withdrawals. The only way the bank is actually able to offer cardless cash withdrawals to customers is by requiring customers to link their ANZ debit card to their digital wallet. ANZ banking app developers could use this oversight as an opportunity to develop a method to somehow facilitate cardless cash withdrawals with the use of the ANZ app. Such a development could help ANZ move from behind the curve to well ahead.

Westpac banking app
The Westpac app made headlines last year for being shortlisted as a finalist for the 2021 Australian Access Awards from the Center for Accessibility Australia. A quick browse through the app and exploring its usability metrics quickly reveals how the Westpac app was able to make this list of the best business apps accessible in Australia.
With phone and online chat support available directly through the app, asking Westpac staff questions is not at all a tedious process for Westpac customers. Along with this, Westpac offers a customizable homepage, just like CommBank, as well as MFA processes for logins, including biometric options, PINs and passwords. Westpac also offers a navigation menu similar to the CommBank app, with minimalist account overviews, card information and security measures, and the ability to easily track upcoming or scheduled payments.
What Westpac lacks, however, are the money tracking features that can be found on the CommBank app. While the Westpac app can't break down your spending habits in as much detail as the CommBank app, the savings goals feature on Westpac's Life Savings Account can bring some excitement and gamification to your Westpac mobile banking experience. As Westpac's Life Savings Account is aimed at customers between the ages of 18 and 29, it's likely the banking company is looking to test these intuitive features on young people before investing in large-scale app updates.
~
Although none of the Big 4 mobile banking apps have been honored in the 2022 Mozo Experts Choice Award For banking applications and technologies, the products and other offerings offered by these banks naturally lead the majority of Australian consumers to seek banking and financial services from these companies. As a result, many of us will have at least one or two of these 4 great banking apps downloaded onto our own smartphones. It is imperative that the mobile banking tools we use are ready to meet our own needs.
With the reviews outlined above, you should feel more confident in selecting one of the Big 4 Australian Banks to use as an ordinary consumer, business owner, first time home buyer or seasoned investor.