Banking activity increases in states that legalize marijuana, study finds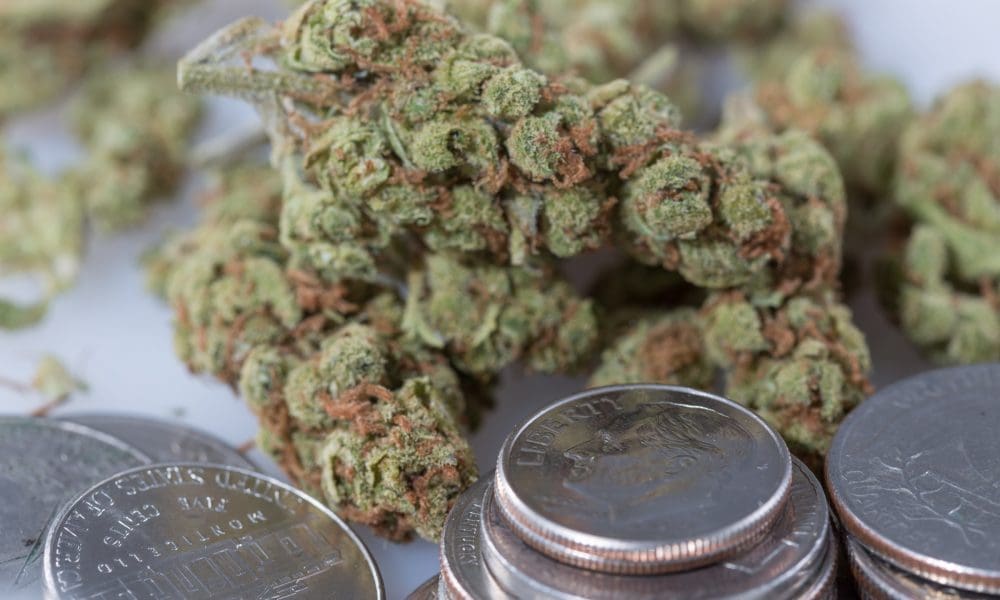 While marijuana businesses often struggle to find banks willing to accept them as customers due to the risks caused by the current federal cannabis ban, a new study has found that banking activity is actually increasing in states that legalize marijuana.
The research does not establish a direct link between state-level marijuana reform and increased activity, but it strongly implies that there is a relationship, even though the factors driving the the trend are not exactly clear.
Researchers set out to investigate banking trends in states that have legalized cannabis, examining banks' regulatory filings with the Federal Deposit Insurance Corporation (FDIC) from 2011 to 2016. They found evidence that "the Banking activity (deposits and subsequent loans) increases significantly in legalizing states compared to non-legalizing states.
This is despite the fact that banks and credit unions run the risk of being penalized by federal regulators for working with companies that deal with a federally controlled substance.
"While uncertainty can lead to overly cautious behavior and hamper economic activity, we find no evidence of this with cannabis and banking laws," the authors wrote in the new paper titled "THC and FDIC: Implications of Cannabis Legalization". for the banking system.
The study analyzed data from "150,566 banking district observations of 6,932 unique banks located in 46 different states." It found that deposits increased in an average range of 3.14-4.33% and bank lending increased by 6.54-8.62% after legalization.
"Our results indicate that deposits and loans increased for banks after the legalization of recreational cannabis."
Of course, it makes sense that legal states would see increased financial activity in the banking sector after a new market opens, even if only some banks choose to take the risk of working directly with cannabis companies. The emerging marijuana industry also supports an array of ancillary and traditional businesses that provide services to dispensaries and grow operations.
As of June 30, 706 financial institutions had filed the required reports indicating that they were actively serving cannabis customers. That's up from 689 in the previous quarter, but still down from the peak of 747 at the end of 2019.
But the question remains: why are some banks deciding to take on marijuana customers while others are wary of federal repercussions?
The study authors – from the University of Arizona, Drexel University, San Diego State University and Scripps College – put forward two possibilities as to why "the risk of regulatory uncertainty has not reduced banks' willingness to take deposits or make loans".
The increase "may suggest that banks were either indifferent to the potential risk associated with accepting cannabis-related deposits, or optimistic about the chances that regulation would adapt to the needs of states undergoing legalization." paper the reasons.
Confidence in working with an illegal industry at the federal level may have been bolstered in 2014 when the Financial Crimes Enforcement Network (FinCEN) under the Obama administration issued guidance to financial institutions on reporting requirements for cannabis-related businesses.
The second option, optimism about federal reform, also seems possible. It was around the time the bipartisan Safe and Fair Banking (SAFE) Act was first introduced that there was a noticeable increase in the number of financial institutions reporting that they had commercial marijuana customers.
In the years that followed, this legislation was approved in one form or another five times in the United States House of Representatives, but it continued to stagnate in the Senate. In general, banks reporting marijuana accounts have remained relatively stable since 2019.
"Although many have speculated about increased legal risks for banks, there is a lack of evidence for cases where banks are criminally sued or lose their federally insured status," the study said. "If these negative repercussions rarely occur, it is logical that banks do not react to legislative uncertainty."
"As more state regulators issue statements in favor of banks and credit unions serving the cannabis industry, financial institutions may become more optimistic about the chances that regulations will adapt in their favor over time," the authors wrote.
Despite the optimism expressed by some lawmakers about future reform, this does not necessarily relieve the latest failed attempt to provide protection for banks that choose to work with state-legal cannabis companies as part of a project. large-scale defense law.
A pro-reform Republican senator recently criticized Democrats for failing to advance marijuana bank reform despite having a majority in Congress and controlling the presidency.
For what it's worth, the U.S. Treasury Department secretary recently said freeing up banks to work with state-legal marijuana companies would "of course" make the Internal's tax-collecting job easier. Revenue Service (IRS).
As for the SAFE Banking Act, a bipartisan coalition of two dozen governors recently implored congressional leaders to finally enact marijuana banking reform through broad-based defense legislation.
A group of small marijuana business owners also recently argued that the gradual change in banking policy could actually help support social equity efforts.
National Credit Union Administration board member Rodney Hood wrote in a recent Marijuana Moment op-ed that legalization is inevitable and that it makes more sense for government agencies to anticipate policy change to resolve complications. banking now.
Rhode Island governor includes marijuana legalization, delistings in budget request